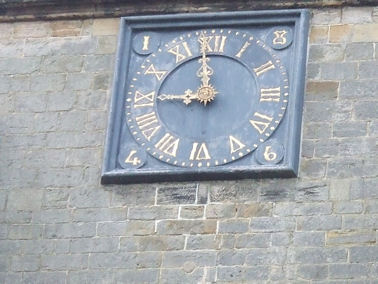 The clock, perhaps unusual in that it has no south-facing dial, was constructed in 1847 by B.L. Vulliamy, a famous London clockmaker who, unfortunately, appears to have provided a less than excellent timepiece. It has a dead beat escapement in a cast iron 'plate and spacer' frame. The pendulum gives a 2-second beat. Initially there were no quarter chimes, but these were added in 1874, using a separate frame, when the mechanism was overhauled by Edward Funnell of Brighton. It now consists of 3 trains: going, striking and quarters.
The manual winding mechanism was converted to an automatic electric system in 1980; in 1987 the clock hammers, cranks and wires were overhauled.
Timekeeping is good, though intervention with coins placed on or removed from the pendulum is sometimes needed! For more details of the clock and its history, see below.